Ocean Blue Boat Painting & Fiberglass and Ocean Blue Marina now offer the communities of the Florida Keys and Miami a full service marine facility. Ocean Blue Boat Painting & Fiberglass to the South offers a licensed and insured, painting and repair facility with expert experience in this industry for over 15 years. Our experience in fiberglass repair is second to none and ranges from major structural damage of vessels to reparation of floors, stress cracks, stringers, hatches to a wide variety of other improvements. Ocean Blue also specializes in vessel painting, from small boats to large yachts, including color-matching and custom painting working meticulously with all mediums, including Awl Grip, Gel-coat, etc.
Our company is unique in that we can perform all professional services either at our facility or we have a full, mobile enclosure system that allows us to come to you. Whether with our fiberglass repair, boat painting and/or superior detailing, at Ocean Blue, we are committed to returning your vessel to mint condition! We encourage all of our future customers to view our portfolio today because as they say . . . a picture is worth a thousand words!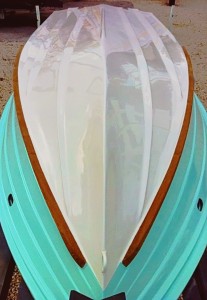 Ocean Blue also welcomes a new facility into our family. This great location is now aptly named, Ocean Blue Marina. This private marina to our North now offers wet slip rentals, dry boat storage as well as the only ramp North of the Caribbean Club. With easy access to backcountry fishing and the Miami Out Islands, this gem of a marina is sure to be a crowd pleaser. Coming soon to Ocean Blue Marina will be a watersports center providing boat rentals, fishing and regular kayak rentals, jet ski rentals, paddleboard rentals and more!
Together, Ocean Blue Boat Painting & Fiberglass and Marina, offers the South Florida boating community the very best place to repair and restore you vessel while providing an easy access point and fun place to enjoy the fabulous waters of the Florida Keys.